Thank you for your interest in hunting with NWO. We offer a high quality bear hunt in some of the best bear country in Northern Wisconsin. Although we cannot guarantee 100% success, we will do everything in our power to put you close to these magnificent animals.
AREA INFORMATION - Bear hunters will be hunting in Zone A1(Zone A bear hunters are permitted to hunt in Zone A1) in Bayfield County, Wisconsin. Bayfield County is the second largest county in Wisconsin. This area contains approximately 966,000 acres. Nearly half of Bayfield County is publicly owned land. Here the natural beauty of the area will surprise you. It is as rugged as what you might expect to find in the western part of the country. This prime bear country can be found in the northern most part of Wisconsin on Lake Superior, near the Apostle Islands. On the shore of Lake Superior lies a small town called Washburn (pop2558). This town is your destination. All necessities, such as: groceries, hardware, tools, automotive shops, hotel/motel accommodations, liquor, beer, fine restaurant, and coffee shops can be found locally.
ACCOMODATIONS/LODGING - Base camp is located on private land. You will need a tent or camper. I do have tents available if there is a need. All hunters will furnish their own equipment, food, sleeping bag, pillows etc. Breakfast is included each morning. It is highly recommended that all hunters stay at base camp. Northern Wisconsin Outfitters reserves the right to alter accommodations if necessary.
HUNT DETAILS - Bear Hunting 2003(Draw Permit Only), with bait, runs September 10th to October 7th. The hunt that I offer runs September 10th thru September 19th, as most hunters will have their bear. Arrangements can be made for an extended stay. Bait stations are located on private, paper mill, DNR, and county forestland. It is strongly suggested that you arrive one day before the opening of the bear season. A seminar on the day before the hunt will acquaint you with the necessary information, followed by a question and answer period. I will then show you your bait station where you will be hunting. Space is very limited. You will need to use your own vehicle for transportation to and from your stand. Once a hunter books a bear hunt with Northern Wisconsin Outfitters, a bait station is selected and continuous baiting starts two months before the season to attract the bear daily. The bait consists of sweets, breads, molasses, pie filling etc. It is very common for more than one bear to hit the same bait. All tree stands are already in place. Evening hunts are recommended, because 80% of all bears are taken in the evening. We camp right along one of the main ATV trails of Wisconsin. So if you are able to bring along your ATV, please do so.
HARVESTED BEARS - Bears that are harvested will be gutted by the guide or helpers. If hunters want their bear to be processed I do have a processing market that will accommodate you. There will be a taxidermist available if interested.
HOW TO RESERVE YOUR HUNT
Contact me to insure availability. My number is (952)447-9967.
A deposit of half of the total cost is required, contact me for pricing.
Due to natural risks inherent to all wilderness recreations, clients are required to sign an "Acknowledgment of Risk" form.
UPON BOOKING YOU WILL RECEIVE
Booking information
Detailed list of proper gear
Questionnaire (health, experience, and emergency information)
Travel information
"Acknowledgement of Risk" form
Northern Wisconsin Outfitters is fully Licensed and Insured.
I require all hunters to know proper hunting regulations for the State of WI. For Wisconsin Regulations, licenses and bear harvest applications, "click link below."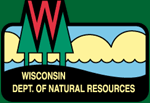 *Northern Wisconsin Outfitters reserves the right to alter accommodation, if necessary
Don't Forget Your Fishin' Pole !!!
Base camp is located along the beautiful Sioux River and the fishing is great.